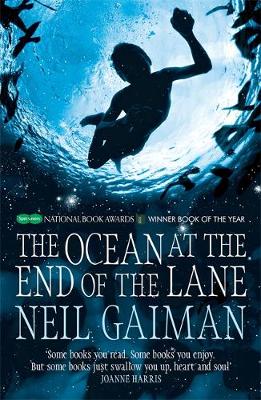 SUMMARY
Dive into a magical novel of memory and the adventure of childhood, from one of the brightest, most brilliant writers of our generation. It began for our narrator forty years ago when the family lodger stole their car and committed suicide in it, stirring up ancient powers best left undisturbed. Dark creatures from beyond the world are on the loose, and it will take everything our narrator has just to stay alive: there is primal horror here, and menace unleashed - within his family and from the forces that have gathered to destroy it. His only defense is three women, on a farm at the end of the lane.
The youngest of them claims that her duckpond is an ocean. The oldest can remember the Big Bang. THE OCEAN AT THE END OF THE LANE is a fable that reshapes modern fantasy: moving, terrifying and elegiac - as pure as a dream, as delicate as a butterfly's wing, as dangerous as a knife in the dark.
REVIEW
The first book of Neil Gaiman's that I've ever read was The Graveyard Book, which I completely adored, and his new book is no exception.
The Ocean at the End of the Lane is set in an almost alternate universe (not completely online Coraline) and is perfect for children and adults alike. It focuses on the memories of an unnamed narrator and the strange events that happened on the farm around his childhood home.
It's a really quick and easy read but don't let that fool you; you'll be completely sucked into the dark, perception-twisting, almost Dahl-esque events.
For adults, this is literally a trip down memory lane, back to a feeling of unlimited possibility, and the fear of the unknown that can sometimes come from that.
Gaiman effortlessly shows his ability to showcase the magic of childhood and perceived reality with effortless grace - as always.