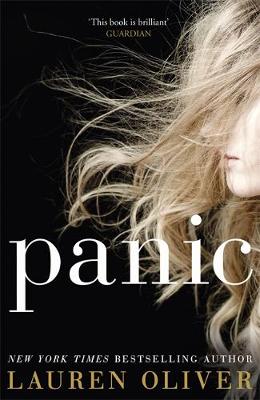 SUMMARY
An utterly gripping thriller from bestselling author Lauren Oliver. Panic began as so many things do in Carp, a poor town of twelve thousand people in the middle of nowhere: because it was summer, and there was nothing else to do. Heather never thought she would compete in panic, a legendary game played by graduating seniors, where the stakes are high and the payoff is even higher. She'd never thought of herself as fearless, the kind of person who would fight to stand out. But when she finds something, and someone, to fight for, she will discover that she is braver than she ever thought. Dodge has never been afraid of panic. His secret will fuel him, and get him all the way through the game; he's sure of it. But what he doesn't know is that he's not the only one with a secret. Everyone has something to play for. For Heather and Dodge, the game will bring new alliances, unexpected revelations, and the possibility of first love for each of them-and the knowledge that sometimes the very things we fear are those we need the most.
REVIEW
Panic is a game. A dangerous game, elevating in every round. For most contestants, including Heather and Nat, best friends who join the game after finally graduating High School, it's a chance to win big - big enough to get them out of the small cramped town of Carp.

I've not long finished the Delirium series and after finding that I was disappointed overall I wasn't over-eager to continue to read Oliver's work. However, I felt the writing in the final book was becoming much stronger, and a new series might be the opportunity to put my misgivings aside and start afresh.

I've recently been trying to avoid reading the blurb of books to see if it changes what I anticipate in a book and I'd done quite well with Panic. I went in with tentative steps, finally sinking into the developing narrative and finding that I had flown through the first 100 pages without wanting to put it down. I was worried that we'd be back into the whole YA forbidden/torturous love territory again but I was pleasantly surprised. Heather, the books female narrator, is actually a really good character. She's not perfect by a long shot - she calls a girl "shrimp-faced" and refuses to feel bad about it because she thinks she actually does look that way. She doesn't fall in love with her 'cute' best friend straight away, and amusingly thinks her friends shouldn't be allowed to be happy when she's miserable. We've all been there, right?

A few things that annoyed me about Panic: why is everyone's family so damaged? Just because they live in a small town where opportunities are sparse it doesn't mean that everyone's Mom had to be a prostitute or a drunk. Also, how have the Police not clocked on to Panic in previous years? I'll say one thing for Lauren Oliver, she loves a good Police raid! I'm also not a huge fan of swearing in YA literature. I've always thought of it as lazy writing, there's enough in an implication of swearing. It doesn't need to be so prolific. In fact if it wasn't for this the age scope would be much bigger.

These YA 'elimination games' seem to be a big literary premise since The Hunger Games films really took off. I'm not saying that it's not a good premise, just that I'd like to see authors bringing something new to the scene. What I did love about this is that Lauren Oliver has really grown as an author and it shows. It's not an all encompassing dystopia like her previous series, which is good because it was exhausting and tense, and there are some great elements of down time here too. It isn't quite contemporarily realistic either but theres a good balance.