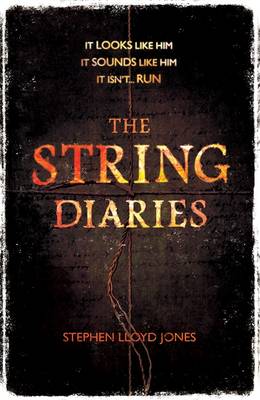 SUMMARY
A jumble of entries, written in different hands, different languages, and different times. They tell of a rumour. A shadow. A killer. The only interest that Oxford Professor Charles Meredith has in the diaries is as a record of Hungarian folklore... until he comes face to face with a myth.

For Hannah Wilde, the diaries are a survival guide that taught her the three rules she lives by: verify everyone, trust no one, and if in any doubt, run. But Hannah knows that if her daughter is ever going to be safe, she will have to stop running and face the terror that has hunted her family for five generations. And nothing in the diaries can prepare her for that.
REVIEW
The String Diaries tells the story of Hannah, on the run and trying to protect her family from the supernatural figure of Jakab, who has terrified them for generations. The narrative flicks between Hannah, set in the present day; Charles, Hannah's father set in the 1970's, and Jakab in 1700's Hungary.

I picked up The String Diaries after wanting something similar to The Demonologist by Andrew Pyper, which I adored. While the tension builds well, with great shifts in narrative, I felt that it dissipated too quickly without any resolution or any particular amount of action. The writing style is easy and fluid but it's tense. There is so much loss and tragedy that I found myself getting quite depressed in places.

This is a holiday read, and it didn't really do much more for me than that. The supernatural could have  been more sinister, more believable. Jakab's changed should have been more gory, more gripping, probably even more disgusting than it is. I also wanted the book to explore proper old manuscripts or for extracts from the diaries for the reader to decipher, but everything is done for you. It's good to see the diaries played out but I'd rather that have been an award for cracking a code in the text. It should have felt more like excavating ancient secrets rather than a series of strained vignettes.