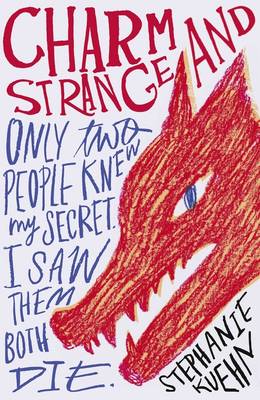 SUMMARY
No one really knows who Andrew Winston Winters is. Least of all himself. He is part Win, a lonely teenager exiled to a remote boarding school in the wake of a family tragedy. The guy who shuts the whole world out, no matter the cost, because his darkest fear is of himself ...of the wolfish predator within. But he's also part Drew, the angry boy with violent impulses that control him. The boy who, one fateful summer, was part of something so terrible it came close to destroying him. A deftly woven, elegant, unnerving psychological thriller about a boy at war with himself. Charm and Strange is a masterful exploration of one of the greatest taboos.
REVIEW
Oh God. How do I even begin to describe something that I adore so much without giving away the truth of it? Charm and Strange is an incredible, powerful book that is just so compelling I was almost breathless when I finished it. It has a calm, sad feel and the world around me disappeared and I sank into the narrative.
Perhaps I should start by saying how I came to read this book.
A proof of this had been sitting on the shelf at work. No cover really, just blank and black with the title.  I'm terrible when books don't have a cover, I almost like to prejudge a book and be proved wrong. I read the blurb and thought it sounded quirky and interesting. My initial thought was that it was a werewolf book, and certainly people on Goodreads have listed it as a paranormal book. Reflectively this really annoys me because they have either formally categorised it without reading it, or they have read  it and didn't pay enough attention. However, I noticed it on display at work and chatted to a colleague about it, and became determined to give it a go. 
I genuinely don't want to give anything away about it and that makes it so difficult to review. It's so important to go into this blind to experience the full impact of it. It's like nothing I've ever read before.  Charm and Strange is a narrative that unveils a boy's fragmented mental psyche and also the story behind it. It teases out facts through Win's interpretation of events and I was so desperate to know what had happened, what he had done or what had happened to him, that made him become quite so withdrawn. I had no idea, though. I wasn't prepared. There were so many hints and clues as to what had happened but when I finally realised it was like being punched in the chest. It's strange that something so devastating can also be compelling to read, but's its so interesting to read about the development of personality through trauma. I find the brains ability to cope, adapt and change to help us try to cope with situations infinitely interesting.