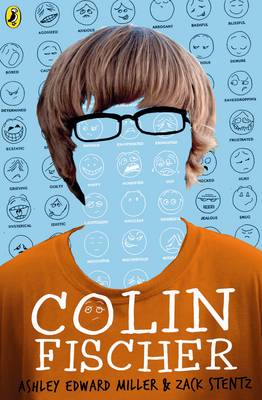 SUMMARY
This is a brilliant detective story for readers of 10+, from the screenwriters of X Men First Class and Thor. It is a must-read for anyone who loved The Curious Incident of the Dog in the Night-time. "Fans of John Green and Sarah Dessen will like this book very much". (Publishers Weekly). Colin Fischer is 14 and he has Asperger's. A lot of the world is a mystery to Colin - he can't read his classmates' expressions without looking at a chart, the colour blue is really off-putting and he has no idea why his parents like to hug him. But when a gun goes off in the school cafeteria one lunchtime, Colin knows he can work out who did it. Colin loves cool, hard logic. His hero is Sherlock Holmes. Only Colin can piece together the puzzle that links chocolate cake, a dodgy gangster, a cheerleader and a very unlikely suspect.
REVIEW
A few months ago I recieved Colin Fischer through the post and wasn't really that interested in it. I was going through an adult dystopia phase and it just didn't fit in with what I was looking for. So it went in the work locker and was forgotten about when I lost my key. When my key finally surfaced and I went through my locker, I was surprised to find this again. At the moment my trend is male-narrated contemporary, quirky, psychological YA fiction. Sorry to be so vague. So this was a real treat to stumble across again. I've always been a firm believer that books find their readers at the right time.
Firstly, Colin is brilliant. He is one of my favourite all time narrators. He suffers from Aspergers Syndrome and as such can't read facial expressions and takes things people say as literal. Although he struggles emotionally with things like loud noises, he's able to reduce day-to-day occurrences and insults down to logical fact - and Colin loves facts. The beginning of each chapter is an extract from Colin's Notebook, usually a fact or theory that helps him understand whatever is happening to him. I honestly thought this was fascinating. Through him you being to look at society and social contract through a different perspective. Imagine The Big Bang Theory's Sheldon, although Colin doesn't try to actively shun or criticise those around him.