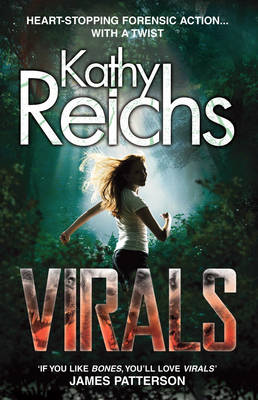 SUMMARY
Fourteen-year-old Tory Brennan is as fascinated by bones and dead bodies as her famous aunt, acclaimed forensic anthropologist, Tempe Brennan. However living on a secluded island off Charleston in South Carolina there is not much opportunity to put her knowledge to the test. Until her and her ragbag group of technophile friends stumble across a shallow grave containing the remains of a girl who has been missing for over thirty years. The question is, did whoever was responsible for the girl's death have anything to do with the sick puppy they rescued from a secret laboratory on the same island? With the cold-case murder suddenly hot, Tory realises that they are involved in something fatally dangerous. But events take a turn for the bizarre when they escape some would-be attackers by using physical powers more akin to a dog than a human...Could the puppy hold the key not only to the murder, but also the strange changes that are taking place in their bodies?
REVIEW
Kathy Reich's is the author of many adult crime novels, and her character Tempe Brennan and co. are the subject of the TV show BONES.
I absolutely loved Virals! I think bringing the crime genre to the younger reader is fantastic, and having the protagonist as the niece of an already well loved forensic anthropologist is just genius. Its the perfect pathway for anyone wanting to graduate to the gritty adult world, and even brilliant for parents who read adult crime to share with their children.
The best way to describe Virals is like a modern day Famous Five adventure. You have all the elements you loved in those adventure stories as a child: a bright and colourful group of friends, an island off the beaten path, a suspicious medical facility and the group even have a dog! (well ok, a wolf). It even has the supernatural elements that modern kids seem to love just threaded subtly through.
Essentially Virals is a murder-mystery. The group of kids, headed up by Tory, are the children of scientists working at the secluded research facility on Loggerhead Island. After trying to determine what is happening to the island's wolves as one goes missing, the group come across remains buried on the island and, because of her familial links, Tory tries to 'CSI' the crime scene. When their remains are stolen and Tory's discovery discredited the group exhaust every possibilty to try to find the bones and what happened to the person they belonged to. At times its a little like the pesky kids from Scooby Doo but it never feels unreal. Even the supernatural elements. I loved all the characters and got so sucked in to the story and the cliffhangers that I went straight out and bought the second book (and now also have the 3rd!). There are so many more intricate details pertaining to the case that I don't want to spoil things too much.