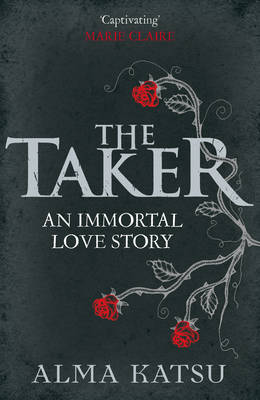 SUMMARY
This is an immortal love story. Have you ever loved someone so much that you'd do anything for the
m
? When Dr Luke Findley turns up to his hospital shift in the small town of St Andrews, Maine, he's expecting just another evening of minor injuries and domestic disputes. But instead, Lanore McIlvrae walks into his life - and changes it forever. For Lanny is a woman with a past... Lanny McIlvrae is unlike anyone Luke has ever met. Hers is a story of love and betrayal that defies time and transcends mortality - but this tale cannot end until Lanny's demons are finally put to rest. Her two hundred years on this earth have seen her seduced by both decadence and brutality - yet through it all she has only ever had one true love in her life. Until now. An unforgettable novel about the power of unrequited love to elevate and sustain, but also to blind and ultimately destroy, "The Taker" is an immortal love story on an epic scale...
REVIEW
Firstly, this book is not suitable for younger readers. Twilight fans who want to continue their forbidden love teen angst need not look here. This is the other, unbelievably extreme, sort of love. The fact that it labels itself as 'An Immortal Love Story' is ironic in a way. I picked it up by this tagline, thinking I could enjoy paranormality with a more adult storyline but I never imagined the utter brutality of this.
The story is set initially in the present, Dr. Luke meets 'Lanny' in his hospital who proceeds to tell him her story of how she came to be there. This is not a short story, she really starts at the beginning, and I'm talking her very beginning, back in the early 1800's. The settings were great and her storyline actually starts believably. I grew to like her, she's a normal person, not 100% pure or honest. Her only problem is that she is completely and blindly in love with the son of the biggest family in the town: Jonathan St. Andrew.