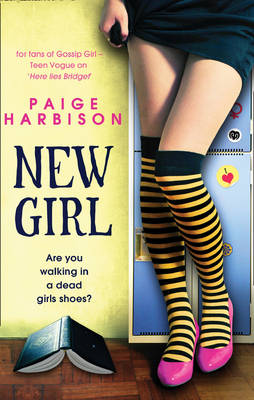 SUMMARY
A contemporary young-adult retelling inspired by the classic 1938 romantic suspense bestseller Rebecca by Daphne du Maurier.
They call me 'New Girl'...
Ever since I arrived at exclusive, prestigious Manderly Academy, that's who I am. New girl. Unknown. But not unnoticed—because of her.
Becca Normandy—that's the name on everyone's lips. The girl whose picture I see everywhere. The girl I can't compare to. I mean, her going missing is the only reason a spot opened up for me at the academy. And everyone stares at me like it's my fault. Except for Max Holloway—the boy whose name shouldn't be spoken. At least, not by me. Everyone thinks of him as Becca's boyfriend…but she's gone, and here I am, replacing her. I wish it were that easy. Sometimes, when I think of Max, I can imagine how Becca's life was so much better than mine could ever be.
And maybe she's still out there, waiting to take it back
REVIEW
I cannot tell you how much this book annoyed me. Not the best start to a review I'll admit. I'm going to try my best to not compare this to Rebecca, because I have to admit that it makes me cringe to think this could stand up to it. Rebecca is a modern Gothic classic whereas this, well, isn't.

It is split, on the whole, between 'New Girl's and Becca's narrative, in first and third person respectively. This is probably the best format for this type of novel as it allows the reader to see just why EVERYONE had come to love Becca and miss her so much.

It started well for me. The build up to the 'New Girl's arrival at Manderley is ok, ignoring the fact her parents are a little flat and one dimensional. It establishes her character well, her love of the Florida weather and its style. She's timid and comfortable in the life she has and does not initially want to leave to go to this new school just for a couple of years.

Manderley itself has no real presence and I feel Harbison has missed a trick by not using it more. The people there, however, are far from what you would expect from private school pupils. The girls are unbelievably shallow. Every couple of pages talk about sex or boys or 'who fancies who'. Yes, this happens with teenagers but no where near to the extend of this. It's so repetitive. And if this didn't annoy me enough they are always drinking or drunk or talking about how drinking is the answer to everything.