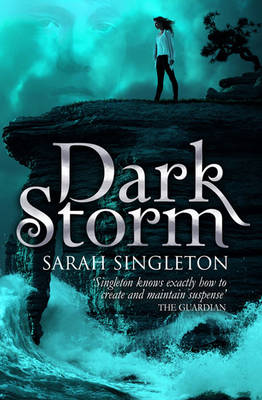 SUMMARY
Ellie is staying with her maternal grandparents for the summer, while her recently bereaved dad takes off on holiday with his new girlfriend. Upset by his apparent callousness, missing her mother, and jealous for her dad's attention, she begins to spiral into depression. Her grandparents suggest she joins a local theatre group, to meet people her own age and get away from the dark thoughts that threaten to engulf her. But then she gets roped into a seance at the theatre, and is the only one who actually sees a real ghost. Now a spirit is contacting her from beyond the grave - and as the dead boy's story unfolds, Ellie finds herself falling in love with him. But if she solves his mystery and helps release his soul, will he be lost to her forever?
REVIEW
Dark Storm appeared in my pigeonhole at work after my annual leave as an unexpected (and wholly lovely) advance copy treat from Simon and Schuster. Inside, along with the book, was a cutting of a review of the book from SFX. I can't find a link for it on the internet anywhere though so unfortunately I can't share it with you. The long and short of it is that the final paragraph was highlighted for my attention and says: "In the end, this isn't a shallow love story but an exploration of all sorts of love, and loss." [Miriam McDonald -
SFX
] I don't completely agree with this view point, but I'll get round to that.
EDIT
: You can find Miriam's review
HERE
.
Dark Storm did catch my attention almost immediately; Ellie, the main character, finds a package behind the shelves of a secondhand bookshop at the same time that a mysterious breeze slams the shop door. (With me yet? This is the stuff a bibliophile's dreams are made of!). When she finally gets the package home she finds a deconstructed model theatre and a script for an historic version of Romeo and Juliet. Storyline-wise, it began to shape up as a great tale. I loved the settings of the beach, the sea, the cliffs and even the multiple designs of the theatre (I don't want to give too much away by explaining that). It really did make me want it to be Summer so I could have my coastal holiday. I loved its atmosphere and the ease of the prose, but the only thing I didn't like was most of what happened after the promising beginning.