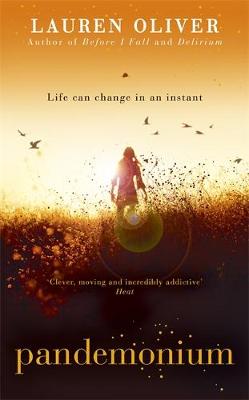 THIS IS THE SECOND BOOK IN THE DELIRIUM SERIES, IF YOU HAVEN'T READ THE FIRST THIS MIGHT CONTAIN SPOILERS.
SUMMARY
Love, the deadliest of all deadly things. It kills you when you have it. And when you don't. I'm pushing aside the memory of my nightmare, pushing aside thoughts of Alex, pushing aside thoughts of Hana and my old school, push, push, push, like Raven taught me to do. The old life is dead. But the old Lena is dead too. I buried her. I left her beyond a fence, behind a wall of smoke and flame. Pandemonium is a poignant, explosive, recklessly romantic and utterly heartbreaking novel. Like Delirium, the first in the compelling trilogy, it will take you to the very edge. That's all you need to know. We'll let Lena do the rest of the talking ...
REVIEW
Initially I found the prose of Delirium slightly slow and cloggy. It took a while to make its point, and when it did it repeated itself quite a lot. All in all, even though the plot was quite good I felt the book was let down by its style and form.
Pandemonium couldn't be more different. The story is split into two parts: Now and Then ('Then' being the continuation of Delirium, tracking Lena's entrance into the Wilds after leaving Alex behind, and 'Now' depicting a couple of years into the future when Lena re-enters the population as part of the Resistance). Having the novel split like this gives Oliver the opportunity to do what she does best: create cliffhangers. It makes it so much more of a page turner and unlike its predecessor doesn't make you feel like you have to go through the hard slog for the reward.
Having a split narrative also gives the opportunity to introduce a whole new cast of characters without losing sight of all that had come before. We are introduced to the idea of the Wilds being a 'rebirth', almost a way to distance itself from everything that happened in Delirium, to launch itself into a more adult and grittier narrative. Before Lena was a naive school child, now she is an adult, and needs to be part of a new society in order to survive.