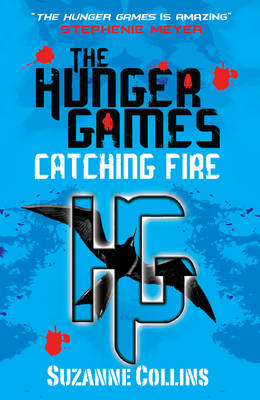 THIS IS THE SECOND BOOK IN THE HUNGER GAMES SERIES AND MAY CONTAIN SPOILERS OF THE FIRST BOOK.
SUMMARY
After winning the brutal Hunger Games, Katniss Everdeen returns to her district, hoping for a peaceful future. But Katniss starts to hear rumours of a deadly rebellion against the Capitol. A rebellion that she and Peeta have helped to create. As Katniss and Peeta are forced to visit the districts on the Capitol's cruel Victory Tour, the stakes are higher than ever. Unless Katniss and Peeta can convince the world that they are still lost in their love for each other, the consequences will be horrifying. This is the terrifying sequel to "The Hunger Games".
REVIEW
If you have read The Hunger Games, the first book in this trilogy then I'm sure you were shocked by the events of this book just as much as I. I never know how this series is going to carry on, I always find my self at a crossroads and can't imagine what the path ahead will look like.
The beginning of the book is somewhat slow, it has to be said, but they were seeds and morsals of information that had to be put in place for the benefit of the reader and are therefore excusable in my view. You see even more how much the Capitol controls the lives of its people, even the money that Katniss recieves on winning the Hunger Games comes with the knowledge that depending on what happens with the next games, Katniss would always be involved in the wanton killing of other people. Its details like this that shows just how strong a dystopian novel it is.