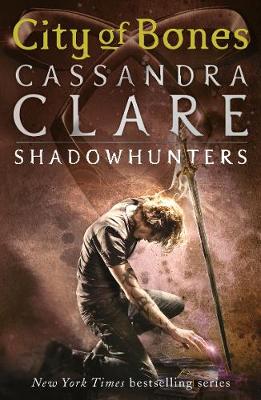 SUMMARY
Sixteen-year-old Clary Fray is an ordinary teenager, who likes hanging out in Brooklyn with her friends. But everything changes the night she witnesses a murder, committed by a group of teens armed with medieval weaponry. The murderous group are Shadowhunters, secret warriors dedicated to driving demons out of this dimension and back into their own. Drawn inexorably into a terrifying world, Clary slowly begins to learn the truth about her family - and the battle for the fate of the world.
REVIEW
When sitting down to write a review I try to think of the most brief way to sum the story up without giving away too many of the plot twists, but no matter how hard I try I can't think of anything suitable for City of Bones. The story starts with a small web and weaves its way around you until your completely trapped and enthralled.
Anyway, enough confusing metaphors. You know what the most simple thing is that I love about this book? The array of creatures. I didn't think I was really interested in demons until I read The Demon's Lexicon, same as I really didn't think I would like werewolves until I read Shiver. But I do love them all. I really do. And I love that the book is not concerned with a massively soppy romance, but at the same time I love Jace and would rather like to kiss him vicariously through another character...
The characters themselves are brilliantly crafted, not massively stereotyped or morally black and white, but confused, unpredictable and actually really funny. Clary, the main female that the narrative follows, isn't my most favourite of heroines, but I could grow to like her. She has great self control, even though she's naive at times. She follows her heart and stands up for her beliefs, but she still wavers in her own optimism. I like that. There are so many different characters but they don't get confused; they don't represent certain elements of a personality like the characters in The House of Night series, they are their own people, and each relateable in their own ways.